P&G Case Study Competition
P&G CEO CHALLENGE
(Developing Top Talent in Pakistan)
P&G understands the importance of grooming talent and grooming it early. To this end, the company is fully committed to growing and developing talent within Pakistan. This intent gave birth to "P&G CEO Challenge" which successfully completed its second year in Pakistan in 2015. A regional case study competition in which university students participated from all across the country, it provided students a true insight into how a multinational company like P&G operates and exposure to holistic business challenges - from marketing to finance and retail - faced by brands and businesses being run on an international scale.
Talent Development initiatives like this are absolutely crucial for students' personal growth and they enhance their employability as well. In its 2 short years of operations, P&G's CEO Challenge has touched over approximately 4000 students from all over Pakistan. After 3 grueling rounds, team Icarus from Lahore University of Management Sciences emerged as the National Champions for 2015 and were placed second behind eventual Regional Champions, Egypt in the semi-finals. The Grand Finals were held in Dubai.
P&G believes in building from within and in Pakistan recent graduates are our primary source of talent. Hence developing talent early is a system which works for P&G and is globally recognized for its effectiveness – Chief Executive Magazine named P&G the number one best overall company for leadership development in its list of '40 Best Companies for Leaders' in 2014 for the third consecutive year.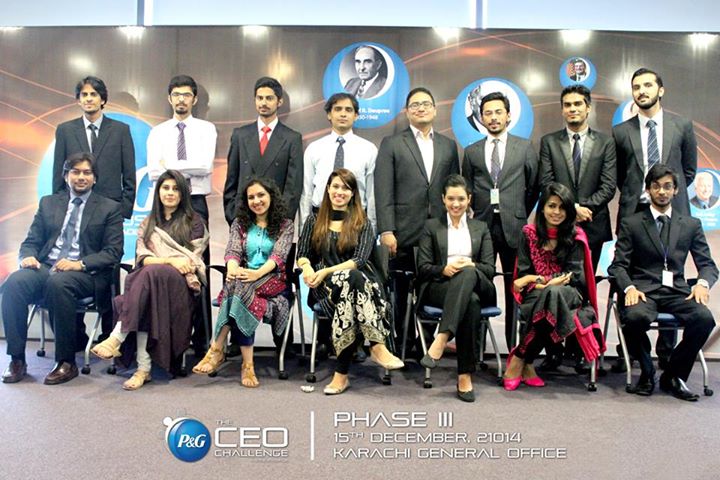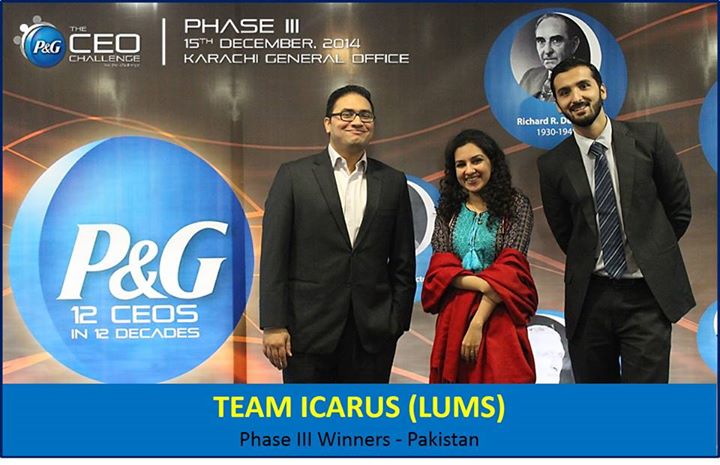 What's In It for You?
The IT Business Challenge is a unique and fun way to experience what it means to work as an Information Technology Manager in a multibillion-dollar company like P&G. Throughout the competition, you will solve real-life business problems and get a glimpse of how business, innovation, and technology come together at P&G to foster competitive advantage. You will witness what it's like behind the scenes of world-famous brands like Gillette, Braun, Oral-B, Pampers, Ariel, Pantene and many more.
Test your skills in our gamified, virtual challenge and learn how Information Technology plays a central role in the life-cycle of P&G brands. The best students will get the chance to advance to the final stage: an all-expenses-paid trip to Greece for an unforgettable experience. There you will solve new business cases and embark on an exciting, learning journey with some of the brightest minds in the region. You will also receive personalized coaching from experienced P&G professionals and enjoy an exclusive dinner with senior P&G IT executives.
Don't miss this unique opportunity to gain real-world exposure to P&G IT!
Who Can Apply?
The IT Business Challenge 2018 is open to all students graduating in 2+ years, from any university in Western, Central & Eastern Europe, Turkey, and Egypt.
All countries from where you can apply this year: Austria, Belgium, Bulgaria, Croatia, Czech Republic, Denmark, Egypt, Estonia, Finland, France, Germany, Greece, Hungary, Ireland, Italy, Kazakhstan, Latvia, Lithuania, Netherlands, Norway, Poland, Portugal, Romania, Russia, Serbia, Slovakia, Slovenia, Spain, Sweden, Switzerland, Turkey, Ukraine, and United Kingdom.
What Are You Waiting For?
Sign up now for the IT Business Challenge 2018 and embark on an unforgettable learning journey. Note that the applications will be considered in the order in which they are received. Hurry up!
Click Here to Register*
*If you are currently studying/living in Russia, please register here.