The Perfect Cover Letter For Internship
Now that you know how to write that ever-so-perfect resume, it's time to WOW potential employers with a cover letter that leaves them in awe of your skills, and gives you what you're looking for — an interview, and hopefully a job!
Step 1: Figure out the employee's name and contact information.
When composing a cover letter, knowing the name of the employee to send your letter to, her position in the company, and the address of the company is crucial. An easy reason for someone to toss your application in the trash is spelling his or her name wrong. Put all this information on your cover letter — it may seem tedious but it's professional and it gives an immediate indication that this isn't a mass produced cover letter. "If you can get someone's title that's very important," explains Beth Conyngham, President of Conyngham Partners, an executive search firm. To find someone's title (if it is not on the job listing) try searching the company's website, the person's name (try LinkedIn!), or call the company and speak to a receptionist who will be able to give you more information. You do not necessarily need to put your own address on the letter—especially as that information should be on your resume. But definitely include immediate contact information (email/phone number)! Read on to find where you should include that information.
Step 2: Choose a professional font
While this may seem pretty standard, it's actually really important. Always send out cover letters in Times New Roman. It's a classic font that won't create problems. And WriteExpress.com explains "The serif font uses small horizontal lines and flourishes that carry the eye along and make the text easier to read than the rigid vertical lines of a sans serif font." May sound pretty meaningless, but why risk it?
Step 3: Salutation
"It should be Dear Mr./Ms./Mrs. COLON. A comma is informal and casual and a colon is business-like and this is business," said Conyngham. But what to do if you're faced with an ambiguous name like Devon or Ryan? "Ambiguous names, that's always a quandary," Conyngham said. "The proper thing to do would be to call the company and say I'm writing a letter to Devon/Ryan should I address them as Mr. or Mrs.?" Might be awkward but you know what would be more awkward? Getting it wrong. Other options to figuring out the person's gender? Searching for the person on Google or Google images, or even Facebook.
Step 4: Immediately introduce what job you're looking for (and yourself!)
Start with a basic introduction sentence to the cover letter such as: Please consider this letter and my attached resume for employment as a summer sales intern at Best Company, Inc."Every cover letter should be very specific to the job you're going after," Conyngham said. "If you're applying for a job, it should be in response to your ad on Monster.com or wherever you saw it. Reference the job, where you found it, and the date. If there is a number beside it you should reference that as well. You want to give the reader as much explicit information as you can about the job to which you are applying. Make it easy for them." Then, don't forget to say who you are! Quickly introduce yourself, your school, and your year! This is especially important if you're applying for a job in a big company. Tell them you're applying for an internship in the specific department you're interested in or tell them what job you want. You wouldn't want to be applying for a job in sales for a company and not specify the job…and then end up in human resources.
Step 5: Compliment the company
"Say something specific about the company BEFORE YOU TALK ABOUT YOURSELF," Conyngham said. "For example, 'I've always been passionate about Your Company' or 'it's always been in line with my career goals.' This is either at the top or the bottom of your cover letter, not in the middle. There isn't a right way or a wrong way to do that but it's got to be included." Make sure you make it clear why this is the company you want to work for. Make them feel special and as if they are your #1 choice! For example, if you wanted to work for Forever 21 you could say: "Forever 21 is a fast-paced environment which is ideal because I like working under pressure and quickly. I am particularly impressed with Forever 21's ability to quickly take high fashion inspiration and turn it into affordable clothing that is exceptionally fashion forward."
Step 6: Quickly tell them why you're great
Choose your best qualities and state them clearly and efficiently in your second paragraph. If you say: I feel I am well qualified for this position because I am deadline-oriented, organized, a leader, a professional, a self-starter, a hard worker, creative, dedicated, positive, punctual, eager to learn, adaptable, sociable, dedicated, dynamic, reliable, mature, efficient, a team player, analytical, a problem solver, dependable, communicative, motivated, and have great attention to detail all you will do is BORE THEM WITH BUZZWORDS. "Avoid the buzzwords and in a sentence or two say something that really captures your experience and why you're appropriate for this role," Conyngham reiterated. "You should talk about your resume and the experience that relates to this job. My experience makes me uniquely qualified because of this, this and this."
STEP 7: Wrap it up
"Say when you're available for an interview in person or on the phone and how to reach you. You should also say 'If I don't hear from you I will follow up with you next week.' A cover letter should be followed up with an absolute date of when you will follow up with them if they don't follow up with you," explained Conyngham.
STEP 8: Bye!
Conyngham's advice? Close with a "very best regards" and your name (obviously) and call it a day. "I think you only want two main paragraphs. Short and sweet," Conyngham said, noting that reading cover letters gets tedious. But in my experience, if something on your resume needed particular clarifying—a unique position perhaps—it's okay to clear it up, as long as you aren't repetitive with what's on your resume. Check out the model below for a guide about how to write the two main paragraphs and a closing paragraph!
STEP 9: Proofread, proofread, and, oh, proofread
Then send that thing out and wait for a call back (and if not, touch base with them!) And now, the moment you've all been waiting for…a sample cover letter to show you how to put it all together!
March 21, 2014
Ms. Jane Smith
Vice President of Sales Best Company, Inc.
118 5th Ave. New York, NY 10036
Dear Ms. Smith:
Please consider this letter and my attached resume for employment as a 2014 summer sales intern at Best Company, Inc. My name is Cara Sprunk and I will be completing my sophomore year at State University in May. I am extremely interested in working at Best Company, Inc. Since I first became interested in sales I have had extreme respect for Best Company, Inc. and believe it truly personifies what a great company can do with an innovative product. Not only do I think that I would learn a great deal about the sales industry from Best Company, Inc., but I also think my unique skills would make me a highly valued intern.
At State University, I am president of the sales club, the marketing manager of the marketing club, and a sales associate at Clothing & Co. These positions have helped me become extremely organized with my time, as well as taught me the inner workings of marketing including psychological marketing techniques and the relationship skills to facilitate good employee-client relations for continuous sales. I would love to speak on the phone to learn more about the sales internship or to schedule an interview. I can be reached at (201)-555-5555 or [email protected] anytime. If I do not hear from you I will contact you on April 10 about the sales internship. Thank you so much for considering my candidacy.
Very best regards,
Cara Sprunk
Think of your internship cover letter like a handshake: A firm one grabs the recipient's attention, while a limp grasp can leave something to be desired.
Similarly, your cover letter is a hiring manager's first impression of you, so it's important to do what you can to stand out from the crowd. If they like what they see, they'll move on to your resume, and before you know it, you could be interviewing for your dream job.
And, yes, hiring mangers still read resumes. While not every cover letter is read—and many only get 60 seconds of a reader's attention—they are still highly relevant to the job search process. According to a survey by the Society for Human Resource Management, 73% of HR professionals still consider the cover letter to be somewhat to very important. Additionally, 81% said it was somewhat to very important for cover letters to be tailored to each job.
To help you write an internship cover letter that amplifies your resume, NerdScholar asked the experts for advice.
Before you begin writing your internship cover letter…
1. Talk to someone at the company before you apply, then reference them.
Hiring managers don't usually see every submitted application, so to increase the chances that your resume is read, talk with a current employee at a networking event, career fair or even over LinkedIn. You are creating a connection with someone within the company who "can help the hiring manager with the decision," says Troy Hopkins, director of undergraduate and accountancy career counseling at the University of Houston. "It also shows that the applicant cared enough to take the extra step of finding out more about the position and company from someone on the inside before they applied."
2. Address the letter to a specific person.
The simple act of using a name instead of a generic greeting establishes a connection right off the bat. You also demonstrate that you did your research. "Try to find a contact — an actual person — that you can address at the top of the letter. 'Dear Sir or Madam / To Whom It May Concern' should be avoided if at all possible," Hopkins says.
3. List the job's required skills and match your skills to the list.
Before you write, review the required skills for the position and jot down a time when you used those skills, says Marilyn Santiesteban, assistant director of career services at Texas A&M University. If you can list the results you achieved while using that specific skill, your list will be even stronger. When you write, she adds, you may choose to use the two-column, or T-style cover letter (see image), which you can pull directly from your list.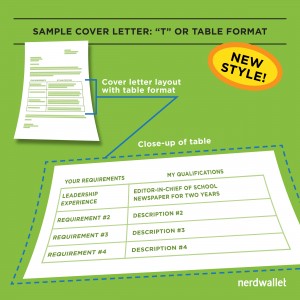 During the writing process…
4. Start with an attention-grabbing sentence.
Get the hiring manager's attention quickly by, for example, beginning your internship cover letter with company news, Santiesteban says. For example, say: "'Congratulations on being selected one of the best places to work. Your commitment to employees is just one of the many reasons I want to intern at Acme.'" Keep the rest of the paragraph short and avoid flowery language, Santiesteban advises. Avoid an opening such as, "'It is with great enthusiasm and excitement that I submit my application for the XX internship.' Unless you really speak that way, replace that with 'I'm applying for the XX internship,'" she says.
5. Tell a story with specific examples.
"Using academic and extracurricular experiences are key for internship cover letters, but it's necessary to pull specific examples and tell a story that really shows the potential employer how you have gained or developed skills," says Anna Young, assistant director of career services at the University of Richmond. For example, describe an event you planned from start to finish, she says. Make sure to illustrate your skills instead of just listing them. Avoid vague language such as, "My experiences as psychology major and student leader on campus have equipped me with the skills to communicate effectively, manage my time, and think critically," Young says.
If you're stumped on how to describe your skills and accomplishments, seek help. "All of your work history is developing professional skills and experience. As such, your institution's career center can help you to write descriptions of seemingly mundane tasks both professionally and accurately," adds Jennifer Williamson, director of the Academic and Career Advising Center at the University of Wisconsin-Platteville.
6. Don't undersell yourself.
Do not write: "While I may not have any relevant experience…". Instead, talk about your transferrable skills and how they will enable you to perform in the internship, Young says.
"Although you may have not worked in this industry before, be sure to highlight what you have done that may be transferrable," says Dave Tirpak, assistant director of career and employment counseling at Howard Community College. Consider all areas from where you may draw experience: academics, campus organizations, research projects, volunteer work, athletic involvement, hobbies, or even your social media expertise, he says.
7. Tell the employer how you can help them.
"The best thing a candidate can include in their cover letter to catch a potential employer's eye is a story about their employment experience that features ways the candidate will add value to the organization," says Kim Whiteside, manager of the career services center at Bellevue University. "All cover letters (and resumes as well) are not really about the candidate. They are about the employer, specifically the employer's business objectives and challenges. Moreover, cover letters (and resumes) demonstrate how the candidate's skills and experience will help an employer meet its objectives and overcome its challenges."
When you're ready to submit…
8. Include references to show your commitment, even if they don't ask.
"Even if not specifically sought in the position notice, continuing to include some references that can be contacted anyway upon initial submission can sometimes decrease processing time, as well as demonstrate commitment and responsibility," Erin Hornbeck, assistant to the chair at Binghamton University, says.
9. Upload everything into one document.
"If you are submitting multiple documents, such as a cover letter, resume and references, scan all three documents into one for submission so the employer only has one document to open, review, save and/or print," McNeese State University internship coordinator Mary Kaye Eason says. "The employer will appreciate your efficiency!" Lastly, it's best to submit your application as a PDF file with the file name as "your name–cover letter" to make it easy for the employer to save and locate your file.
---
Handshake photo via Shutterstock.